On August 28, 2020 at 5:47 pm, at age 52, I declared my financial independence (FI), packed up my personal belongings and left my GS-15 job at the Department of Defense after 9 years of civil service and 20 years of active duty. How was I feeling? As you can see from the below video, I felt great.
My financial path to this point started long ago with frugal living, focus on savings, and 28 years of investing (not always smart investing, mind you). Before we discovered FI, my wife and I travel hacked with home exchanges and credit card hacking, cut the cable cord, eliminated our home phone, switched to much cheaper cell phone plans, minimized subscriptions, drove old cars (2000 and 2003 respectively), but my FI journey can be clearly measured from just 2 years and 5 months before when I laid out a 5-year plan to quit my job for good and go to graduate school using my Post 9/11 GI Bill.
In April 2018, my son and I were touring a college campus on the last day of a week-long trip to the Pacific Northwest. On our trip home, I made a quip about not wanting to go back to work. My son, then a senior in high school, asked me, "why don't you quit?" I told him that I didn't have enough money to live on, and since Social Security was unreliable, I expected to work until I was 70. But he challenged that reasoning. "Why not live in another country where it's less expensive?" he asked. This simple question was the beginning of my rethinking the parameters I had always accepted for how much money I needed to live.
I began searching for inexpensive countries for expats and found a long list that I could afford to live with good healthcare. One question led to another, and I was figuring out how much I needed to save to stop working. I had the Post 9/11 GI Bill benefits that would expire in 8 years, so I set 5 years as my goal to quit and go full-time to graduate school.
From that state of mind, it didn't take long for me to find the FI community. I initially discovered The Money Habit blog and then the ChooseFI podcast that introduced me to numerous people thinking differently about money and time. I read their blogs, books, and articles, binged thousands of hours of FI-related content. I started closely tracking my spending with Mint and set-up numerous spreadsheets for monthly spending, cash flow scenarios, and how we would pay for our kids' college after I quit.
Seeing the numbers changed everything. The more I learned and shared with my wife who pretty quickly came on board, the more we extricated unnecessary spending from our budget, and the faster our FI date came. I didn't need 5 years. It now became more of finding the best way to offramp from work and begin my new life. In the Fall of 2019, I applied to graduate school.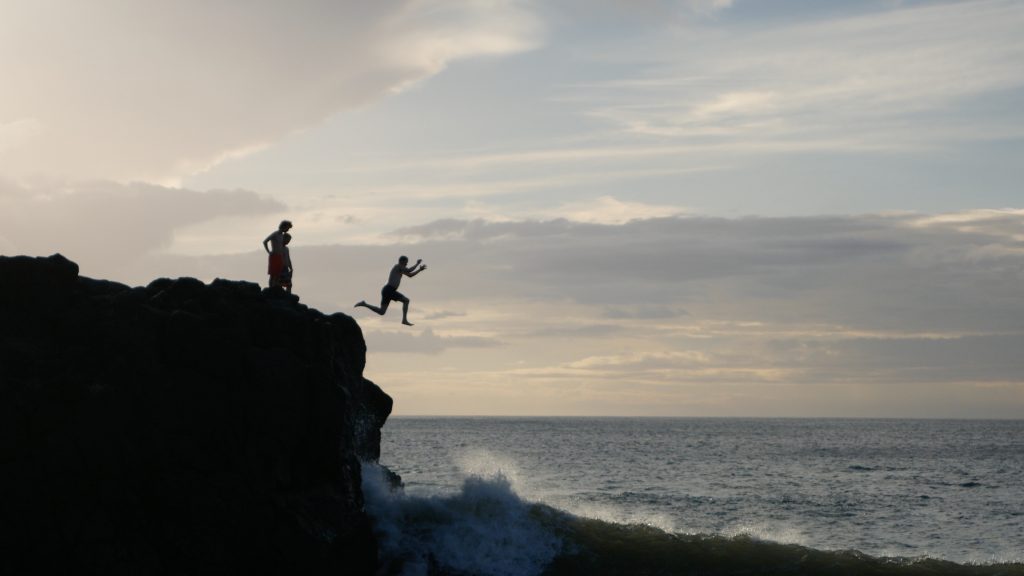 Taking that calculated leap of faith to quit my job was exhilarating and reminded me of the time I jumped off a rock cliff on the North Shore of Hawaii. In 2017, we took a family vacation to Hawaii to visit where my daughter was born at Bellows Beach, Oahu, in the early 2000s. (She really was born at the beach, as we had a home birth on Bellows Air Force Station.) It was a great trip for so many reasons, but a highlight for me was a spur-of-the-moment decision to jump into the ocean from "The Rock" at Waimea Bay at sunset.
When jumping off the rock cliff, I had to trust that others had successfully and safely made the leap. I had to understand the risks and determine that I was prepared physically and mentally. Leaving my career 15 years earlier than the traditional social security age required me to trust my numbers and recognize that many others in the FI community had already made this leap–I wasn't alone. This community was more than great ideas to optimize investing, spending, taxes, safe withdrawal rates, and so much more. I found a community of support I could trust.
I found virtual mentors in Brad and Jonathan at ChooseFI, Paula Pant at Afford Anything, Joe Saul-Sehy at Stacking Benjamins, Brandon (a.k.a., the Mad Fientist) at the Financial Independence Podcast as well as their inspiring guests. I also read articles on blogs too numerous to list (shout out to Carson at Early Retirement Now), and read a pile of personal finance books, such as Vicki Robin's Your Money or Your Life, J.L. Collins' The Simple Path to Wealth, and Kristy Shen and Bryce Leung's Quit Like a Millionaire. Each of these helped me confirm my numbers, but more importantly they helped me break loose from cultural constraints that were deeply ingrained in me.
I found my identity was closely wrapped up in my career, and it was hard to tell others (and myself ) that I would soon be unemployed. "What will you do?" was the common response. Being a graduate student helped me make the change by providing an acceptable transitional identity. "I'm going back to school," I told people. I did two semesters during the pandemic, then decided I was done. Now I have developed the mental freedom to just say "I am financially independent." Am I rich? no. But am I wealthy? More than I can count.